Rural house near Barcelona. Your special holidays
PROMOTIONS
We have accommodation for two people at the special price of €300 per week. Check the options in the section: Apartment Torrellenc and disconnect between the Penedès vineyards!
With the confidence of Ca la Laia.
With friends or family, it is the ideal house to share moments of meetings and intimate celebrations.
Our house is designed to enjoy nature and for those looking to disconnect from the city and connect with a rural and authentic village environment.
Between its walls you will breathe airs of 1879 to remember what life was like in the countryside at that time.
The Torrellenc apartment was built in 1980 and is located in the center of Torrelles de Foix. Right next to Ca la Laia.
The Torrellenc apartment is designed for small groups or families who want to discover corners of the upper Penedès. We have options to choose from.
You will disconnect with the rural atmosphere of the village of Torrelles de Foix!
Committed to responsible tourism development and friends of the natural environment around us, we are proud to meet the conditions set out in the BIOSPHERE membership.
We have created our own non-profit Association, TorrellesNetiPunt. Go to the link for more information.
There are many activities that can be carried out in the environment of our house.
The municipality of Torrelles de Foix is ​​full of history. There are beautiful corners full of nature, hermitages, churches, the typical dry stone barracks and many things to do and enjoy them. Therefore, in Ca la Laia, we inform you of a wide range of activities, mountain biking routes, wine tourism, hiking, cultural visits …
Go to our blog, you will see all the recommended activities.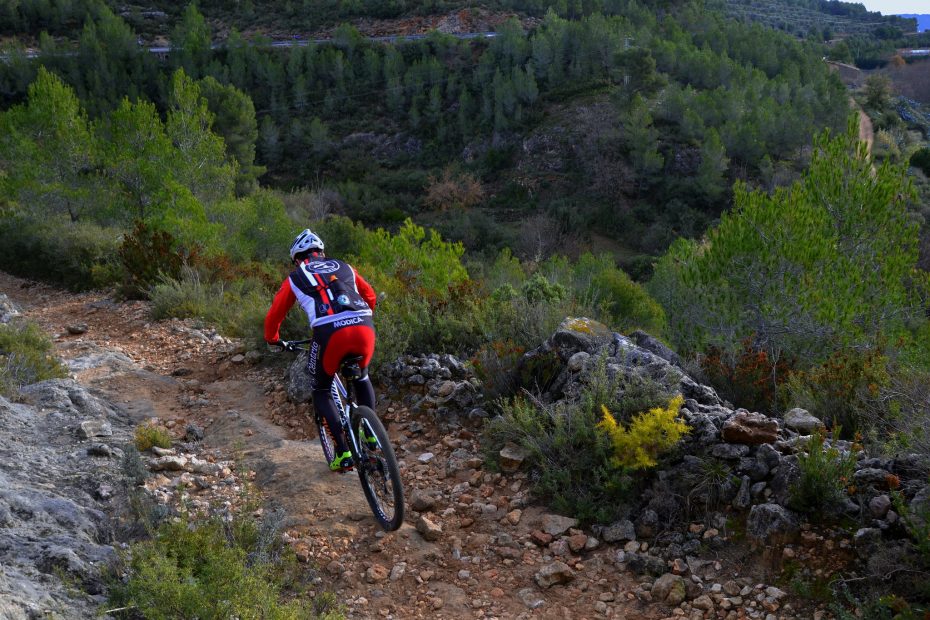 The mountain bike is an ideal vehicle to cross the regions of the Penedès. The Pyrenees plain between vineyards, the Garraf massif and some places of great visibility such as…
Surrounded by pine trees, holm oaks, and with the company of the murmur of the water, the Fountain "les Dous" is a space reserved for those who want to be…
Our situation is unbeatable thanks to its proximity to the most tourist spots in Catalonia: 10 minutes from Vilafranca del Penedés, 50 minutes from Barcelona and Tarragona (Port Aventura), just…
We want it to be an unforgettable stay!
"A space dedicated to our guests"
laura escobedo
12. Septiembre, 2021.
Em passat un cap de setmana molt bo a Ca La Laia, ho recomano
Jaume Riera
22. Agosto, 2021.
Ha estat un plaer conèixer a la Cesca, és una gran amfitriona. La benvinguda ha estat perfecte, amb tot tipus d' explicacions. Ens va informar dels comerços i activitats de la zona amb tota mena de detalls, ens hem sentit molt acollits tant nosaltres com la nostra mascota. Es una casa que encandila tant per la seva historia com per la manera en que ha estat conservada, amb tots els complements necessaris que fan gaudir d' una estada inoblidable. De ben segur que tornarem. Marta i Jaume
Inma Fernández Luque
7. Junio, 2021.
Solo un fin de semana pero muy tranquilitas, la terraza espectacular, muy limpia la casa, hay de todo y el servicio genial ,y un detallazo lo de bienvenida en la pizarra gracias y volveremos
Fritz Ehlers
29. Abril, 2021.
Very secluded and private place with an enclosed courtyard and a sunny terrace. The best wines in the country at your doorstep with guided tours and wine tasting. Beautiful and well maintained walks and good trekking in the area. Friendly, welcoming hosts. 👍👍
IRINA CASARINO
27. Diciembre, 2020.
Nos encantó la casa, super acogedora y con lo necesario para disfrutar de una estancia de relax y tranquilidad, quedamos enamorados del pueblo y de sus viñedos, Cesca la dueña muy amable y cercana, seguro repetiremos!!!!...

Me encantó Muy acogedora, decorada como la casa de pueblo del siglo pasado. Me encantó cada rincón y cada detalle. El pueblo me encanta. Espero repetir.
Josep-T-R
28. Junio, 2020.
Fin de semana tranquilo Todo salió según lo previsto, Buen servicio por parte de la anfitriona. La estancia incluía el desayuno, que se hacia en un bar cercano, muy recomendable. La lastima es que ha sido un fin de semana con mucho calor, y hemos reducido las caminatas por los alrededores, y subir al Santuario en coche, pero queda pendiente hacerlo a pie, para disfrutar mas del paisaje.

Estancia relajante Decidimos pasar un fin de semana por la zona del Penedès y encontramos Ca la Laia, una casa muy bonita y acogedora, ideal para desconectar. Cesca y Manel son geniales, no nos faltó de nada, nos sentimos como en casa. Muy recomendable.

Elena C
24. Febrero, 2019.
los propietarios muy amables. Y el alojamiento muy limpio Hemos estado en una de las habitaciones que tienen al lado de su casa rural. Es perfecta. Alquilas la habitación, pero en verdad puedes utilizar muchas partes de la casa. Un baño privado, una terraza, y salon. Cesca la propietaria, y su marido super amables

Encantados con el fin de semana! La casa es muy bonita, cuidada y todos los espacios estaban muy limpios. Tuvimos muy buena atención de los propietarios, siempre dispuestos y nos recomendaron actividades para hacer durante el fin de semana. La casa muy tranquila y con todo lo que necesitábamos. El desayuno magnífico, no nos lo esperábamos! Repetiremos seguro!  

Maria (Terrassa, Vallès Occidental)
6. Junio, 2018.
Perfecto Una casita idílica. Pero no era sólo pose: se toman en serio el confort y lo práctico. En algunos hoteles 3☆ he encontrado menos comodidad REAL que en Ca la Laia. Por no hablar de la exquisita atención de los dueños. Recomiendo!

Excelente casa y entorno La casa tiene todo lo necesario para pasar unos días, es muy cálida y se adapta a todos los gustos y necesidades. Por ejemplo nosotros fuimos con nuestro perro y estuvo como en casa, también nos dimos cuenta que es perfecta para ir con niños y bebés aunque no fue el caso.

soniacastellar
2. Noviembre, 2017.
Casa muy acogedora Hemos celebrado la Castanyada en Ca La Laia y nos encantó. La casa es preciosa y acogedora. Estaba totalmente equipada y todo decorado al detalle. Los dueños son muy amables y atentos. Seguro que repetiremos. Gracias Cesca, lo hemos pasado genial

Marta T
2. Octubre, 2017.
Todo perfecto Cesca ofrece el servicio de comida y cena y te lo viene a servir a la casa, excepcional! Trato inmejorable, casa cuidada al detalle y muy acogedora. Pasamos un fin de semana en familia genial. El pueblo no es gran cosa pero alrededor hay mucha oferta en cuanto a cavas y bodegas

helenacr2017
11. Septiembre, 2017.
Fantástico La estancia en la casa y el servicio recibido han sido fantásticos. La casa es preciosa, decorada con muy bien gusto y muy limpia. Además aprovechamos a cenar allí mismo con la comida que nos preparó la anfitriona y estaba muy buena! Repetiremos seguro!!
All rights reserved Ca la Laia