Soon it will be necessary to disconnect, rest and, incidentally, get to know the Penedés. Take advantage of hiking. Walking is good, and if you practice it on trails in the middle of nature, the benefits are amplified. Recent research indicates that trekking provides additional benefits compared to physical activity practiced within the four walls of a gym: positive effects on breathing, the heart and the immune system.
Ca la Laia, in solidarity with all the health and essential services personnel during the confinement (toilets, cleaning services, supermarket workers, merchants, transporters, etc.) we want to show our appreciation for the effort and dedication to overcome this pandemic.
For this reason we offer discounts between 10% and 25% on the early booking of stays in Ca La Laia .
We would love to thank you for this when you come to discover Torrelles de Foix.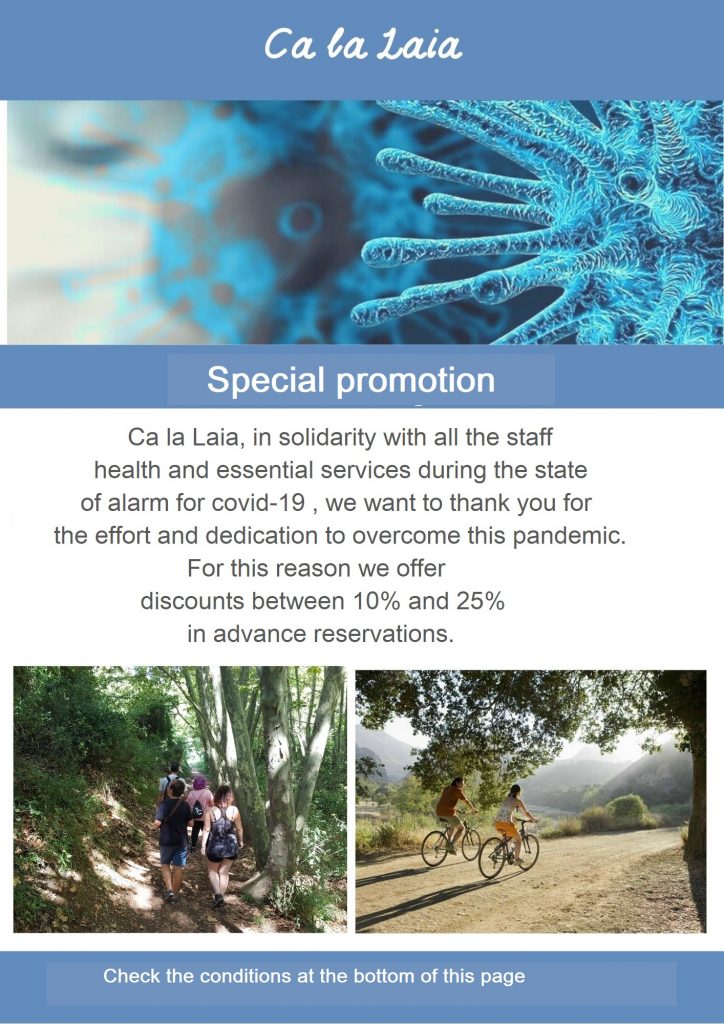 TERMS
10% discount on weekend stays
15% discount on stays longer than 6 nights
The discount will be applied to bookings made 15 days in advance.
The validity of the promotion will be from July 1 to November 30, 2020.
Please send accreditation.
Our rural house is designed for small groups or families who will enjoy the exclusive space for them. No stay shared with other clients. The entries in the house, in no case will occur before 48 hours of the clients' departure. We want to transmit the maximum tranquility to our clients. In Ca la Laia we have often been recognized for the state of cleanliness in which we handed over the house. Now, more than ever, we have used hygienic measures with alcoholic disinfectants and let the house ventilate for two days before entering new clients.